If you've been fishing for some time, you'll understand that when you're sitting down all day, you can quickly get an aching back. Add to that the strenuous side of fishing; carrying your gear, climbing trees, uneven banks and fishing isn't as easy as it first looks! And it can get much worse if you have any underlying back problems. Finding the best fishing chair for bad back is vital. Something which will help your posture and keep you comfortable throughout a days fishing on the bank.
Luckily, the quality of fishing chairs and bedchairs has come on leaps and bounds in the past 10 years. So much so that I'd happily sit on one in the front room if the mrs would allow it! 🤪
Like most items of carp gear on the market nowadays, there are tonnes to choose from. Our team have scoured the reviews to find the fishing chairs that are most suited to anyone who fishes with a bad back.
In a hurry?
If you don't have much time use the links below to quickly find the best carp fishing chair for bad a back on eBay. You can be assured that we only highlight the best products…
Best Fishing Chair for Bad Back – Full List & Specs
Trakker Levelite Longback Chair
"An excellent well-padded chair from a manufacturer that's been in the chair and bed chair game for years. A great option if you have a bad back/neck!"
Chair Summary
Ergonomically designed for extra comfort
Incredibly lightweight at only 4.5kg
Padded arm rests
Unique patented extendable leg mechanism
Clips to hold together during transport
Extra height to support upper back and neck
Padded support throughout the chair
Avid Benchmark Memory Foam Recliner Chair
Chair Summary
Memory foam mattress used throughout
Padded arm rests
Multi-joint reclining system
Extra high back to support head and neck
Rock steady leg system
Weight approx 7.3kg
Nash Indulgence Moon Chair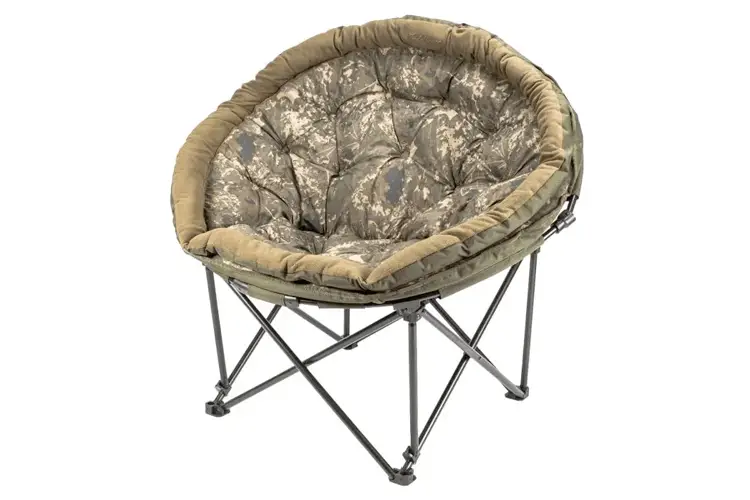 Chair Summary
The famous Nash moon chair!
Ultra-padded throughout to ensure comfort
Finished in unique Nash camo pattern
Twin camo mesh valuables pockets
Variable tension straps underneath to adjust the chair support
Weight approx 7.1kg
ABODE Carp Fishing Chair
Chair Summary
Super-soft foam filled neoprene pillow
Wide adjustable frame for extra comfort
Aluminium arm rests with removable
Frame folds flat for easy transportation
Rated to 20 stone with legs retracted
Integrated neoprene (below shoulder) back supports
Weight approx 5.8kg
Most Comfortable Carp Chair Overviews
Trakker Levelite Longback Chair
The Trakker Levelite Longback Chair is one of the most ergonomically designed chairs on the market. Featuring an immense amount of padding in key areas to support your back, this is a great option for both shorter day sessions and long overnighters when you want a chair inside your carp bivvy.
As the name suggests, this chair features a really high back, making it great if you have upper back or neck pain when fishing.
It folds down nice and compact, so despite all of the padding, it's not hard to transport. Trakker have included a nice little feature which is a clip to ensure that the chair stays together during transport.
The Levelite Longback Chair has a patented extendable leg mechanism, making it really easy to adjust the height of each leg for uneven banks. Simply press the button and the leg will extend to the desired height.
Despite all of these great features and extra height at the back, you would expect this chair to come in at quite a heavy weight. However, thats not the case, as it weighs an excellent 4.5kg.
Overall a great fishing for bad back!
---
Avid Benchmark Memory Foam Recliner Chair
Benchmark by name and the benchmark by nature. Avids range of chairs and beds have been at the forefront of carp fishing comfort for a few years now.
The Avid Benchmark Chair had to make it onto this list. Built with their unique memory foam mattress, this is the height of bankside comfort.
Unlike the many chairs on the market, the Avid Benchmark is also a recliner, so you can lay back and chill out a bit more! It's also great to adjust the recliner a few times throughout your session to keep switching your seating position if you've got a bad back.
A built-in, raised headrest offers excellent support to the neck and head when sitting for long periods of time.
It's sturdy in it's construction, with four height adjustable legs which will see you through a days fishing on even the most uneven river banks. Oversized mud feet included help to keep chair stable regardless of the ground conditions.
Overall, a top of the range chair that with the added recliner system, will help you remain comfortable for the duration of your fishing trip.
Note: Avid also do a matching Benchmark bedchair which has rave reviews. Check it out in our best carp bedchair guide.
---
Nash Indulgence Moon Chair
Indulgence by name, indulgence by nature! The Nash moon chair is like nothing else on this guide, so it had to be included!
With a unique rounded shape and extensive padding throughout, the Nash Moon Chair offers extreme bankside comfort. Great if you're looking for a fishing chair for a bad back or even something a little more comfortable for longer weekend trips. Alternatively it would be an excellent heavy duty carp chair for a weekend in France when you need something a little more comfortable.
It really is as close as you'll get to taking your living room sofa onto the bank!
Made with a luxury peachskin mattress, the Nash Moon Chair has been recently updated in 2020 to include a micro padded fleece skirt around the edges too. This gives that extra quality feel that you would expect from a product in the indulgence range.
Twin camo mesh pockets on the inside of the moon chair are perfect for holding anything of value, such as a phone or receiver.
You can adjust the tension straps on the back to depending on how much support you need to your lower back. – A great feature so that you can make it just about right for your requirements.
Obviously given the serious amount of padding on this chair and it's unique shape, it does add up in transport size. Unlike other chairs on this guide, it doesn't fold down into a flat profile. That being said though, it comes supplied with a carry bag and is easy enough to transport on your carp barrow.
---
ABODE Carp Fishing Chair
Being comfortable on the bank shouldn't cost the earth, and we were more than happy to see a budget carp brand release a carp chair with padded support.
The ABODE Sport LO-Chair has been designed with comfort in mind. Clever filled neoprene padding points placed throughout key pressure points on the chair help to take the strain off your back.
Strong and sturdy, this carp chair is made with 22mm & 25mm tube, ensuring that it is rated to 20 stone with the legs retracted!
But that doesn't mean it weighs a tonne. In fact, it is the most transportable chair in this guide, weighing in at just 5.8kg. It folds down completely and all stays together with a handy transportation clip.
It is slightly more compact than the other chairs outlined on this guide, but we think that's a plus for anyone looking for an extra comfortable roving carp chair.
You can use this chair on any terrain too, with 360 degree swivelling mud feet to ensure that you don't sink in soft mud.
Overall although ABODE might not be the carpiest brand about, this chair packs a punch against the leading brand names! Definitely worth a look if you're after a carp chair for your bad back!
---
Conclusion
Thank you for reading our guide about the best carp chair for a bad back! Hopefully we've been able to help you understand what fishing chairs are available on the market, particularly those which will keep you comfortable on the bank!
If you have any questions about the chairs available, or anything else, feel free to drop us a comment below!
Don't forget to subscribe to our carp fishing blog and check out our other best buying guides and tried & tested reviews.
---
About the writer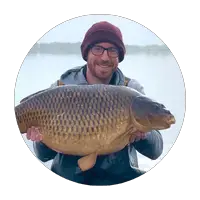 Rob W
I'm Rob, Carp Squad's main contributor. I've been carp fishing on and off for 15 years, but the bug is well and truly back at the moment. Hopefully the articles I write on here help you put more carp on the bank.