Carp fishing in France has become increasingly popular in recent years, offering a chance to get away, soak up the sun and potentially grab a European PB. The key to getting the most out of your trip is to plan ahead and get as much information about the lake you'll be fishing as possible. Got a France trip booked? Check out our carp fishing in France tips to help you along the way…
Do your research beforehand
The first step in preparing for your carp fishing trip in France is to make a plan. Whenever you visit a new venue, it is a good idea to do your research beforehand. 
Try to find out as much as you can ahead of your trip. What baits work well? Where do the fish like to hold up? Are there any nuisance fish that you need to be aware of?
Answers to these questions will help you plan for a successful trip, allowing you to work out tackle requirements and quantity of bait needed.
France is incredibly popular for anglers looking for their dream carp holidays, and there are many different venues to choose from. Some venues will see constant angling pressure, whereas some of the public waters and rivers will be less busy.
Different tactics will be required depending on the venue, so try to get a thorough understanding of the where you'll be fishing ahead of driving across the English Channel. 
Failure to prepare = preparing to fail!
Don't overbait
One of the biggest mistakes you can make when carp fishing in France is to overbait early on in your trip.
Just because the carp are bigger and you might be fishing a well-stocked venue, doesn't mean that they are up for a feed.
The key here is to not kill your chances at the start of the week. Approach with caution, get a feel for whether the fish are feeding and top your spots up little and often.
By doing this, you'll find that bites come more frequently throughout your session.
Put yourselves in the carp's shoes, if a new group of people turn up to the venue and spomb the hell out of it every Saturday, you're definitely going to be more cautious.
You may also find that you pick up a bigger fish with a lighter baiting approach too, as they are often wise to large beds of bait.
Remember, you can always put more bait in, but you can't take it out!
Rest your swim
When you go over to France there can be an underlying pressure to keep your rods in the water at all times. After all, you've just paid thousands for the trip so you need every chance of catching the big one.
However, actually leaving your rods out of the water can bring huge rewards.
Carp in french holiday venues are incredibly pressured fish, so any areas that are free of lines can really draw in the fish.
By 'resting your swim' at times when you are less likely to get a bite, you can give the carp a safe haven to visit. Even better if you can start introducing some bait without lines in the water.
This is a sure way to increase competitive feeding in your swim without any hooked carp or casting spooking the fish.
You're probably thinking that this is a brave move, and it is; but fortune favours the brave!
Don't ignore the margins
A common sight amongst carp lakes is people fishing the central open water. 
Spombing the lake to death or boating a bucket out is often the done thing. But it doesn't have to be. Carp will soon wise up to the same methods that have been used throughout the summer months.
Don't ignore the margins. And whilst it may mean that you can't have the social in your swim for fear of noise, you might just bag a lump that's been feeding in the edge.
When it comes to margin fishing, try to stay as stealth as possible. Bait a few spots little and often throughout your trip, and keep checking back to see signs of fish activity.
This could be the bait being cleared out, fish feeding or clouding up the water. Wait for a break in fish activity before stealthily lowering in a baited rig.
Margin fishing and stalking whilst carp fishing in France isn't often the done thing, but it's well worth a shot if things aren't going your way.
Consider some of the unknown waters in France
Before you go to France, buy a Carte de Peche online. This will allow you to access some pretty amazing public carp lakes in France. It includes some rivers and lakes where your average carp angler won't fish because of the extra legwork involved.
People who head over to France often want a holiday that is simple and relaxed. That's fine, but it leaves a hell of a lot of public water in France unexplored.
They're often less crowded, which means less angling pressure throughout the summer months. And whilst they might not see huge amounts of bait, when they do it can be great for a bite.
If you're doing a drive and survive in France, why not add on an extra day or two to try out a public venue on the way down to your holiday venue?
Use a twin skin bivvy
The weather can get blistering hot throughout the summer in France.
When it's over 35 degrees, you need anything you can to help beat the heat.
An overwrap on your carp bivvy is essential to creating a cool space that you can retreat to when the temperature rises.
Used primarily for harsh winter conditions, overwraps are just as valuable in the summer months, helping to block out the suns rays.
Don't forget to pack yours on your next trip!
Beat the Crayfish
People are always amazed by the number of crayfish in the lakes in France.
They can be infuriating at times and make it hard to keep a hookbait in the water.
Whilst there is no single way to beat them, there is a combination of things you can do to deter them for the duration of your holiday:
Use Plastic Hookbaits – Imitation baits beat standard hookbaits hands down. Crayfish just find it much easier to break down plastics rather than soluble baits such as boilies.
Spread Finder Free Offerings – Use large, widespread beds of free offerings and place your hookbait in the middle. Try to include micro food sources such as hemp and pellets. These will keep the crayfish occupied for longer periods of time, increasing the likelihood of a carp picking up your hookbait.
Recast Regularly – Bring your rods in regularly and replace your hookbait more frequently than you would do normally. Sometimes crayfish can have whittled down your bait without a beep on the alarms, so it's better to be safe than sorry. The last thing you want is just a hook sitting out there all night!
MORE READING: How to avoid crayfish when carp fishing
Stick with what you know
Fishing in France isn't the time to try new things. You need to make sure that you have 100% confidence in your rig and bait choice, especially when the chance of a PB is on the line.
Whilst it can be tempting to switch things up, there really is no need.
Stick to your guns and fish as you would with the successful methods you deploy back home in the UK.
The only thing you might want to change slightly is going up a hook size or increasing your mainline strength when fishing fish bigger, more powerful fish in snaggy areas.
Remember, confidence in your approach is key. The more you tinker with things, the harder it'll be to enjoy your carp fishing holiday.
Take a bigger carp cradle
Most places will provide you with a carp cradle for the duration of your trip. However, if you find yourself doing a drive and survive holiday, you may want to look at investing in an XL cradle for your trip.
The carp are generally much bigger in France, and with the chance of a world record at stake, you need to be prepared. Luckily most of the carp cradles available in the UK can be purchased in an XL version.
Carp Fishing in France Tips: Summary
Carp fishing in France is exactly what you make it. Most of all though it should be fun, so enjoy yourself and take in the wonderful surroundings that France has to offer.
Hopefully, these carp fishing in France tips can help you bag a lump or two!
---
About the writer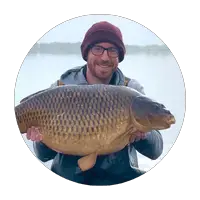 Rob W
I'm Rob, Carp Squad's main contributor. I've been carp fishing on and off for 15 years, but the bug is well and truly back at the moment. Hopefully the articles I write on here help you put more carp on the bank.