While most of us are happy just being out and catching, deep down we really want to catch the biggest carp we can.
And while big carp in the UK are now more accessible than ever, a 50lb carp is still a very big fish to most anglers!
If a 50 is on your hit list, the first thing you need to do is fish the right carp lakes in the UK. It's all about stacking the odds in your favour, fishing lakes with a few 50's to have a go at.
The last thing you want to be doing is fishing lakes where you've only heard rumours of a 50lber here and there.
You need a solid stock of them to go at. Luckily, in this guide we'll be highlighting the best 50lb carp lakes UK.
The Meadows Lake at Holme Fen Fishery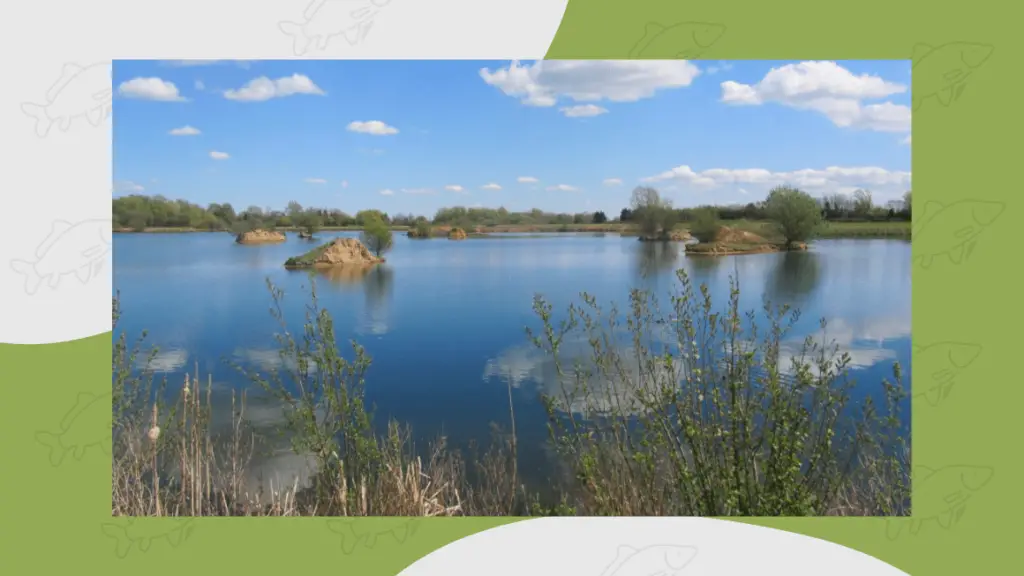 The Meadows Lake at Holme Fen Fishery is undoubtedly the best 50lb carp lake in the UK.
Home to an estimated 40 50lb+ carp, the odds really are stacked in your favour if you get a chance to fish this venue.
And while a 50 might well be on the cards, don't be surprised if you catch something much bigger.
The lake record stands at a whopping 71lb. This is a well-known fish, embroiled in controversy after many of it's captors failed to register it as a British Record Carp. – But that's a story for another day!
The lake itself is a feature-rich, 26-acre gravel pit with depths between 12 and 40ft. Like any such venue, it's gin clear with an abundance of natural food which only fuels the unbelievable size of the carp that swim in it's depths.
Now, as you can expect, you can't simply turn up and find a peg at The Meadows Lake.
This place is open for lake exclusive bookings only. It is accessible to all anglers though.
So why not get a group of your fishing mates together and book the lake for 48 hours or more.
Who knows, maybe you'll all catch a UK 50lb carp?!
Bluebell Lakes – The best 50lb carp lakes UK?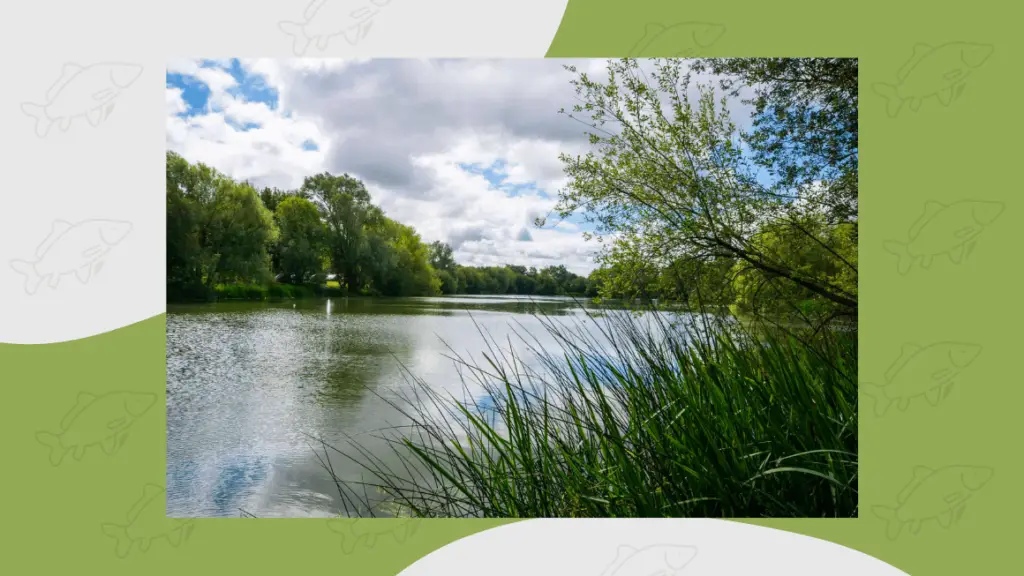 If you haven't heard of Bluebell Lakes then you must have been living under a rock!
Bluebell Lakes have been at the forefront of day ticket carp fishing for decades now. Anglers from up and down the country travel to fish there.
Previously, the main driver for anglers fishing the venue was to catch Benson, the biggest common carp in the UK.
It was otherwise known as Britains friendliest carp, for the sheer amount of times it was caught over 50lb by day ticket anglers!
That carp has sadly passed but it's fellow stock still live on to record weights of up to 59lb.
One of the biggest draws to fishing Bluebell is accessibility. It's by far one of the best day ticket venues to catch a 50lb carp in the UK. There are no bookings required, you can just turn up and pay on site.
This does have it's downfall though, it makes Bluebell pretty tough to fish for the weekend angler in the warmer months. I would recommend trying one of the pre-booked lakes if you fish Friday to Saturday.
The Approach Fisheries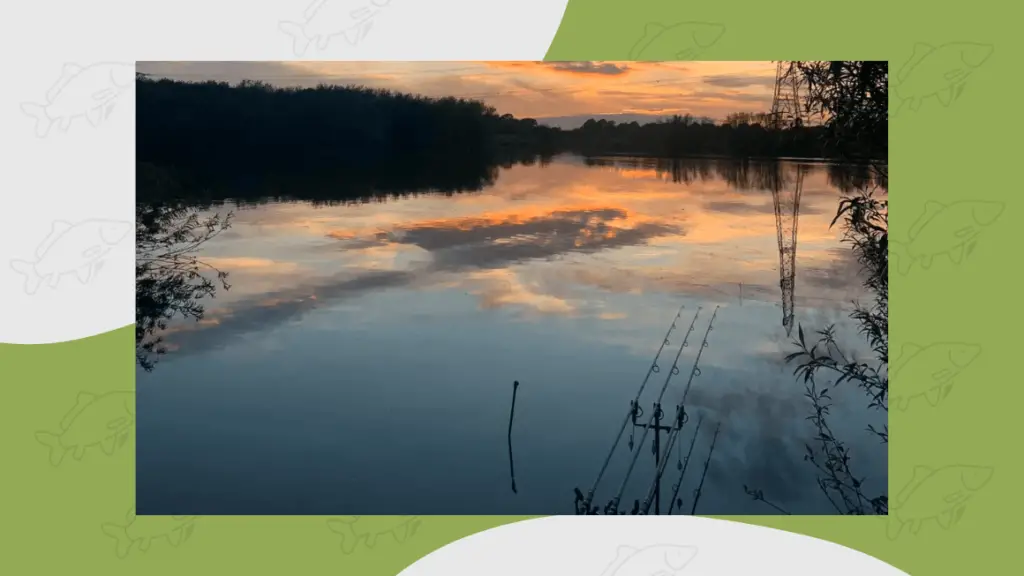 If you're North of the country, there's probably no better place to catch a 50 than at the iconic Approach Fisheries, previously known as Eric's Willows.
Willows is well-known to those fishing up North. It originally opened as an exclusive syndicate in the mid 2000's before becoming a day-ticket in around 2012.
By that time it had gained a reputation for it's extremely large Croatian-strain mirrors with insane annual growth rates.
Fast forward to 2019 and the guys have extended the complex further, adding their neighbouring Trout Lake to the portfolio. Interestingly, a number of 50's already resided in here from floods in previous years.
This remains one of the draws to fishing the Approach Fisheries. With floods every few years, you never know what fish will show up where.
But what you do know is that there is a very good chance of a big fish when putting some time and effort into these venues.
Linear Fisheries Oxlease Lake
Linear Fisheries has long established itself as the premier day ticket venue in the UK.
So much so that it's rare to speak to an angler who hasn't at least fished it for a night or two.
With 15 day ticket lakes to choose from, there really is something for everyone. But as the title of this article suggests, we're on the lookout for the 50lbers right now.
And it's Oxlease lake that is probably your best bet for a 50lber from the Linear Complex.
With a lake record 52lb common and a 46lb mirror quickly following it up, there's every chance of that magical 50 here.
Not only is there some excellent fish to be caught from Oxlease, it also remains one of the nicest lakes to fish on the complex.
Like St. Johns, it's one of the most mature lakes with tree-lined banks and an island to fish to in the south-east corner.
One thing I would say is that Linear Fisheries does get busy. It's turn up and fish only, so you'll struggle if you're a weekend angler. I know many anglers take time off work to head down there for the week and that's definitely recommended in order to get one of the better swims.
RH Fisheries Monument 1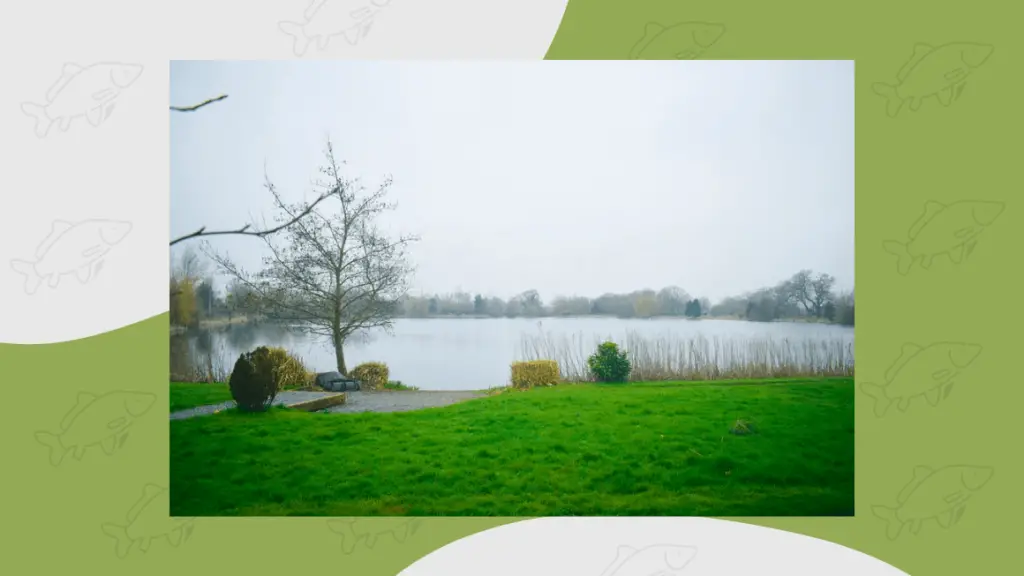 When you think about big carp venues in the UK, it's hard not to consider RH Fisheries.
Rob Hales and his team have been at the forefront of commercial carp venues since the mid nineties. They are known for pushing the boundaries of what a typical day ticket water should be like.
The Monument was their first real experience of creating a fishery from scratch. It was designed with one thing in mind; big carp.
I remember it's debut on Matt Hayes' Total Fishing when Mick Brown caught an upper 30 mirror back in the early 2000s. That was a big carp back then, but over the last 20 years they've grown to astronomical sizes.
The lake record now stands at a whopping 53lb 7oz, with 14 other carp over 40lb to back it up.
For sheer water to big carp ratio, it's hard to beat the Monument 1. The lake is only 8 acres with a stock of around 300 fish.
The best part though?
It's fully accessible on a day ticket. If you're someone who prefers the smaller venues over the large, mature gravel pits, it's worth checking it out.
Berner's Hall Fishery – The Reservoir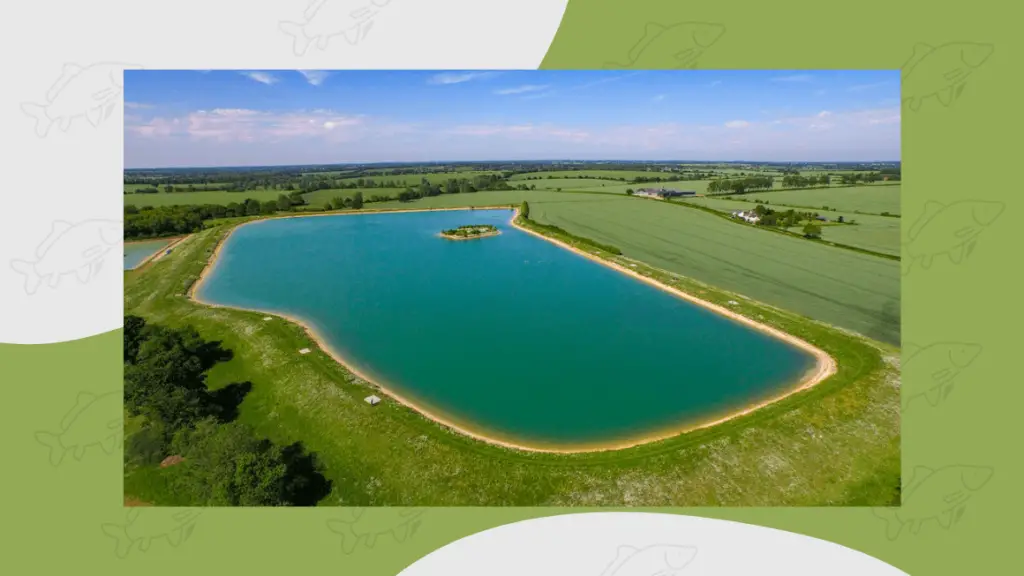 If you happened to take a break from carp fishing like I did from 2009-2017, Berner's Hall Fishery might be an unknown addition to this list for you.
But making this list of the best 50lb carp lakes UK is testament to the fishery management that is going on at the Essex-based venue.
The fish have grown so big over such a short period of time that it is now aptly known as the home of the 30s and 40s.
But it'd be the lake record 50lber that you'd be targeting if you ever stepped foot on it's banks.
There's only one 50 at present but we're including it in this list due to the sheer number of 40lb fish which are likely to smash that barrier in the next few years.
It's well worth a session if you're looking to break a PB.
The lake itself is representative of it's Reservoir name; a large open body of water at around 24 acres in size. With depths down to around 15ft, it's fairly uniform on the lakebed which offers excellent fishing all over the lake.
While it does get busy, the lake has 24 swims to choose from which can be booked in advance using the Catch App.
Cromwell Lake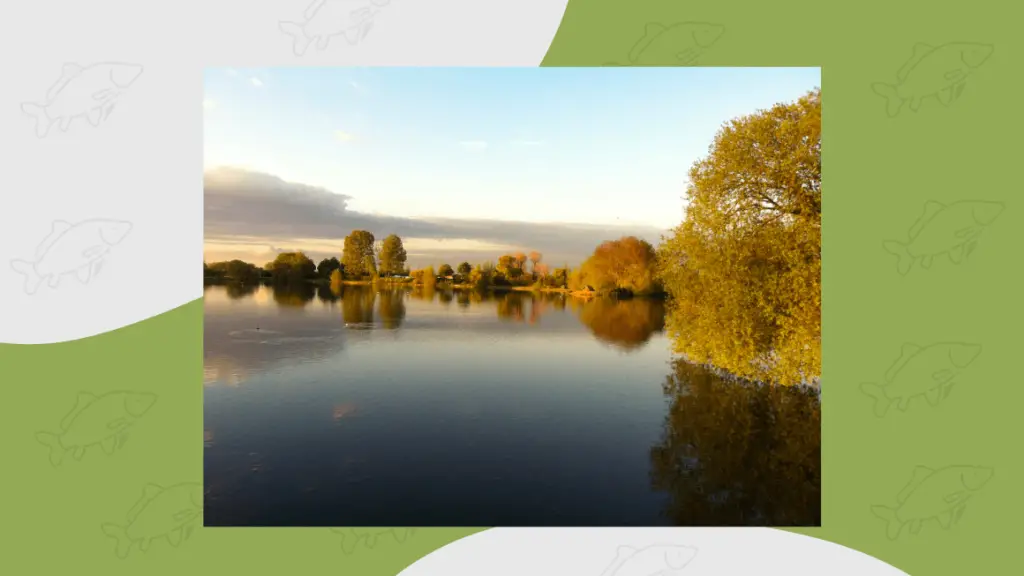 If you're looking for a venue that you can pre-book, then you should certainly check out Cromwell Lake.
Situated in Newark, it's within easy distance for anyone who can get quickly onto the A1. In fact, it's not far from the well-known A1 Pits or Korda's new Norton Disney Complex.
There is one caveat to this listing; there isn't currently a 50lb carp residing in Cromwell.
What there is though is a high stock of fast-growing carp. Some of these have reached up to 49lb 13oz. Fishing Cromwell could be your ticket to a lake record and possible first 50lb carp.
Personally, I've never fished the venue, but know plenty of anglers who have. I hear only good things; a small family run business that prides itself on quality service for anglers.
The lake itself is 18 acres, spring fed and really mature, offering excellent surroundings to hunt for your personal best.
It certainly is a lake to watch and we're sure they'll be showing a few 50lbers on their social media feeds soon!
Old Mill Lakes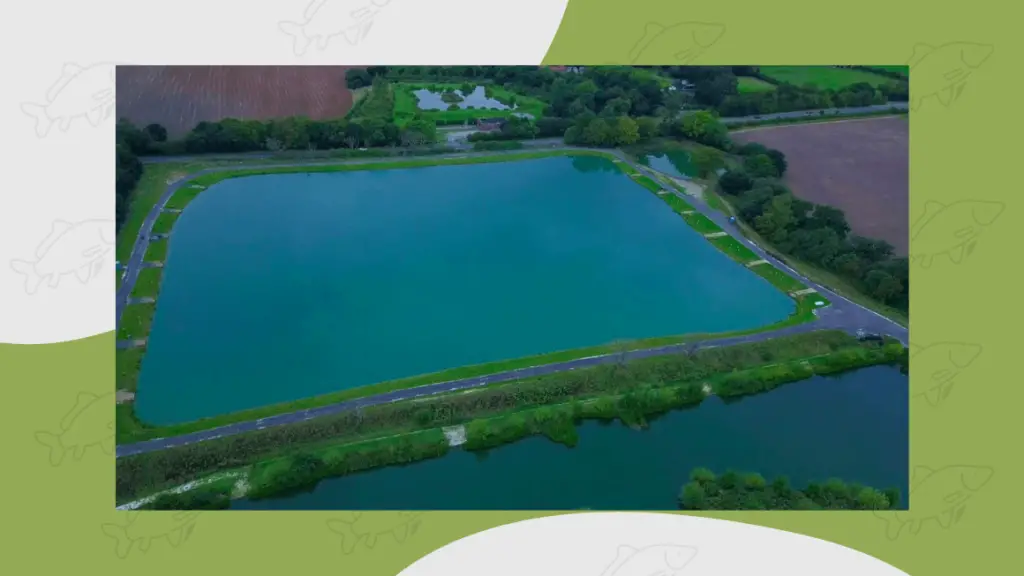 Another complex that has very quickly grown to be one of the best 50lb carp lakes UK is Old Mill Lakes.
Situated in Lincolnshire, Old Mill is easily accessible for many around the country, even if you're a Northern lad like me (currently living in Leeds).
Birch lake is the jewell in the crown of their complex. It holds a whopping 7 fish over 50lb, of varying strains.
And when you take into account that Birch is only 7 acres in size, you can really see why Old Mill is a favourite for many a big fish angler.
Hearing from friends who've fished Old Mill Lakes, they have described it as one of the most well-run complexes they've been to. The fish are in excellent condition and that's testament to the rules that have been put in place.
While Birch is not a syndicate, it is run on a membership/day ticket basis. The prerequisite is that you have to fish either Willow or Oak Pool a few times first to become familiar with the place. I'm a big fan of this, as it generally means you're not getting inexperienced anglers trying to handle 50lb carp. – That barely ever ends well!
Luckily, Willow Pool itself has some enormous fish approaching the 50lb mark. Who knows, you might get stuck into one of them first!
Bonus: If you like to see what a 50lb carp looks like when it's first stocked, check out the Old Mill website here.
FAQs – Catching a 50lb carp in the UK
Do you need any special gear to handle a 50lber on the bank?
When you are fishing for 50lb carp in the UK, you really do need to make sure that you carp care equipment can stand up to the test.
That might be upgrading your carp cradle to a larger size or choosing some carp fishing scales that won't bottom out on a fish of that size. Just imagine catching the biggest fish in Holme Fen and not being able to weigh it accurately!
If a 50lb UK carp is on your hit list, here are some items that I recommend via Angling Direct:
Are there any unknown 50lb carp in the UK?
I believe that there will be some unknown 50lb carp in the UK.
You only have to look at the number of lakes that are un-fishable, or stretches of river that go on for miles. There will be some large fish that have evaded capture, but they will be few and far between. There are a few examples of 'relatively unknown' near 50 or 50lb fish that have been caught in the UK. Here are two examples:
Nick Helleur's Thames 50
This 50 was only known by a handful of local lads prior to Nick's capture. I'm pretty sure none of them realised just how big this carp was until Nick banked it. A UK 50lb carp is an amazing achievement from a lake, never mind a large stretch of river!
The River Aire record at 50lb
The angling press went wild when a 50lb mirror was caught from a stretch of the River Aire in Yorkshire a few years ago. This particular fish went missing from Erics Willows in the 2007 floods, only to be caught in the river at an enormous weight.
About the writer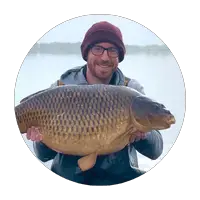 Rob W
I'm Rob, Carp Squad's main contributor. I've been carp fishing on and off for 15 years, but the bug is well and truly back at the moment. Hopefully the articles I write on here help you put more carp on the bank.