Looking for a jacket that'll keep you warm and dry without looking like the Michelin Man? Let's check out the best carp fishing jacket that you can buy this year.
Gone are the days of having to wear a bulky carp fishing suit. Whilst they are warm, they can be very restricting when it comes to activities like casting and playing fish.
Luckily, the market for carp fishing clothing has grown in recent years. We now have more choice than ever when it comes to buying jackets that'll protect us from the elements.
And whilst choice can be a good thing, it can also be very confusing.
In this article, we'll be comparing the most popular jackets currently on the market for us carpers. We'll cover the pros and cons of each, and help you decide which type of jacket should be right for you.
Let's get started.
In a hurry?
If you don't have much time use the links below to quickly find the best carp jacket for you on eBay and Amazon. You can be assured that we only highlight tried and tested products…
Should you buy a thick jacket or layer up?
This is a topic of much debate on most carp groups. And most of the time it shows that us carpers are not the most knowledgeable when it comes to outdoor clothing.
We'll often choose our favourite brands over functionality. But when you take a look at advice from experienced outdoor brands, the answer if always layering up.
And that's because layering up gives you lots more options to stay warm, cool off and remain comfortable.
In effect, you can add or remove layers throughout your session, like removing a warmer mid-layer when pushing the barrow and getting a sweat on. Or adding a thicker fleece if you're sat in your chair for a prolonged period of time.
You can't do this with the big, bulky winter suits. It's all or nothing! Personally, my layering system includes a thermal layer, mid layer and outer waterproof layer:
Thermal top and bottoms
Lightweight fleece
Snugpak Sleeka Jacket
Fleecelined joggers
Aqua Torrent F12 Waterproof Jacket & Trousers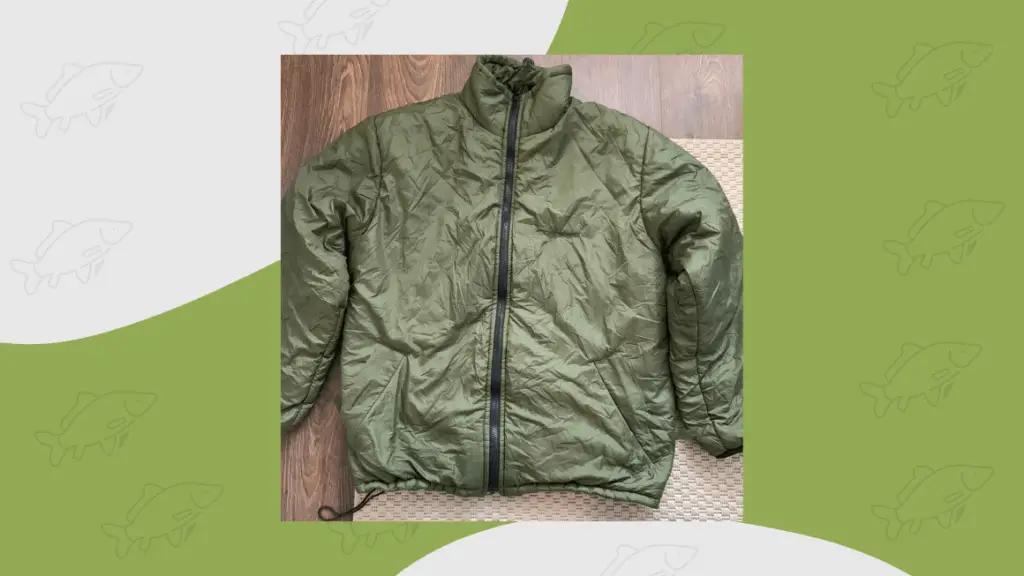 What to look for in a carp fishing jacket
If you've been trawling the internet, you'll see that there are literally hundreds of jackets available.
Waterproof ones, insulated ones, puffer jackets. You name it, it exists! It can be quite confusing to say the least.
Here are a few things you should be thinking about when purchasing your next carp fishing jacket:
Size & Weight
Some jackets are simply much bulkier than others and this should be considered before you purchase.
If you don't want to be using too many under layers, you might want to consider a heavier jacket that has some thermal capabilities such as the Fortis Marine Jacket.
Alternatively, you might only need something packable that acts as a waterproof outer layer. In this case I can highly recommend the Aqua F12 Torrent. I've been using this in my own fishing for 2 years and it's never let me down.
Think about what you will be wearing underneath them too. It may be that you need to go up a size in order to fit thermal layers underneath in the winter.
Thermal Capabilities
A large percentage of jackets on the market come with thermal capabilities. These are generally thicker, and will have some sort of stuffed insulation in them.
They are excellent for keeping you warm in the winter months. However, you don't always need them.
It might be that you already have plenty of thermal fleeces and hoodies, and all you need is a lightweight waterproof fishing jacket to go over them.
Thermal jackets are great, but for many parts of the year they're just too hot. At least with a layering approach and a lighter outer jacket, you can still wear it when the temps drop in summer.
Waterproof Rating
This is probably one of the key purchasing points of carp fishing jackets. Whatever happens, we seem to be getting wet when fishing, even when it doesn't rain!
With that in mind, you might want to consider something with a decent waterproof rating. This is usually measured with a rating called hydrostatic head.
Without wanting to go too deep into the technicalities, anything 10,000mm or above is great. This is actually more waterproof than some carp bivvies, which gives you some context.
If extreme waterproofing is high on your list, I can tell you right now that you will struggle to beat the Korda Drykore Jacket.
Just be careful when you see things like 'water repellent' on the labelling of a jacket. These are OK for popping in and out of the bivvy in drizzle, but can quickly be ruined if you stay out too long in the rain.
Breathability
There is always one downside of waterproof fishing jackets, and that's breathability.
If you've ever worn a cheap poncho, you'll know how quickly they can heat up and retain sweat inside.
Whilst fishing isn't the most active of sports, we can move around a fair bit and work up a sweat.
For that reason, it pays to opt for a carp jacket that has a decent breathability rating. Anything above 5000 MVP is considered good. Even better if you can get a jacket with some ventilation zips under the arms.
Typically, if breathability is high on your agenda, you should be looking at the top end jackets like the Korda Drykore or Aqua F12 Torrent.
Pockets
I once ordered a Trakker Core 2 Piece Suit and was gobsmacked to find it had shallow pockets with no zips.
Considering how much we bend down returning fish and resetting the rods, my phone slipping out of the pocket was just a disaster waiting to happen.
I returned the suit instantly and went for the Aqua F12 set instead.
On your next jacket I would urge you to check out the pockets, and ensure there's enough room and protection for your valuables. There would be nothing worse than losing your phone or car keys on a day's fishing.
What type of jacket should you choose?
Thermal & Waterproof Combined
Jackets that offer both thermal and waterproof properties are quite popular right now. They keep you dry and offer a decent level of warmth. Exactly what you need in winter, although you will find that you may still need an extra layer underneath too.
In this category there are some excellent jackets available, the Fortis Marine Jacket being the most well reviewed. It also made our top pick in this guide.
The only downside with jackets of this calibre is that you don't really need them for half of the year. That's fine if you have the money to shell out, but for some you'd want all year round use after spending £150+.
Thermal Only
Thermal jackets are designed for one purpose in mind; to keep you warm. They are typically filled with some sort of down filling or softie filling which retains heat.
You will normally see these as bubble jackets or puffer coats, like the OMC one we have listed on this guide. For many, they are a focal part of a layering system throughout the winter.
Whilst they do retain heat, they are not great at waterproofing, despite what the labels say. 'Water repellent' or 'water resistant' does not mean waterproof.
They may be ideal for spitting rain, but anything worse and you will begin to lose the thermal properties of the jacket. If you are to buy a thermal jacket, just remember that you will also need a decent waterproof jacket to go over the top of it.
Waterproof Only
Waterproof jackets are made for one thing only; keeping you dry. They are typically lightweight, often coming in a packable sleeve that makes them easy to transport.
They're not really made for use all of the time. Ideally, you'll have decent under layers that will keep you warm and you'll only need the waterproof when it starts to rain.
Aside from being waterproof, jackets in this category are usually extremely good at keeping the wind out too. One thing to bear in mind if you do choose a waterproof only jacket is the sizing.
You may want to go a size up which would give you enough room underneath for a decent insulated jacket or heavyweight fleece.
How we picked these jackets
Real + Group Reviews
We've combined real experience plus group reviews from Facebook and leading eCommerce stores to determine what products to feature on this guide.
Variety
People are looking for different features from their jackets. Therefore we tried to provide some variance amongst the products we've looked at.
No Commission Focus
Whilst we do earn from some links clicked through this site, we have not been biased towards a single product because of that. This is unlike other guides that only feature Amazon listed products.
Our Top Carp Fishing Jacket: Fortis Marine Jacket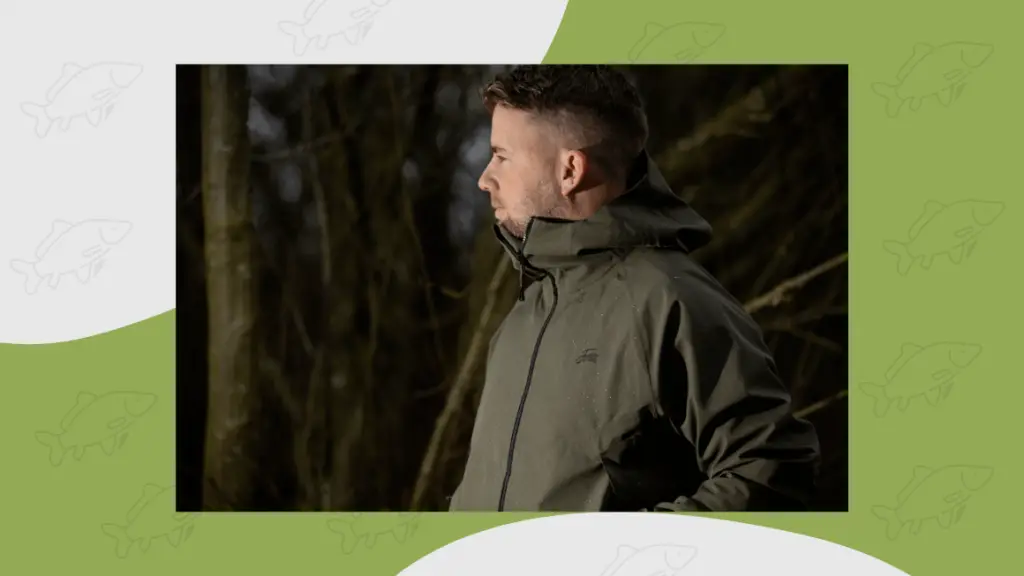 Style: Waterproof
When you are paying £200 for a jacket, you expect the highest of quality.
Luckily, that's what the Fortis Marine Jacket is all about. The reviews for this jacket are excellent, and I've done a fair bit of digging on the carp fishing facebook groups and forums.
With a 20,000mm hydrostatic head, it's twice as waterproof as the much loved Aqua F12 Torrent.
Quite how it can get any better than the Aqua jacket is beyond me.
That being said, there do look to be some fundamental differences.
The Marine Jacket has a very ergonomic shape to it which can only be found elsewhere on the Korda Drykore. It's clearly been well thought out.
There's an elongated rear to prevent drafts up your back and specially shaped cuffs to prevent drips down your sleeve when casting. Clever hey?
Size wise, it comes in a classic fit, which Fortis claim is for layering purposes. You can indeed wear thermal puffers or thick fleeces under this throughout the winter.
You will find it a bit thicker than the Aqua or Korda jackets though due to it's heavy waterproof rating. Whilst this is great for keeping you dry, it doesn't pack down as small. This is worth bearing in mind if you only want something that can be stashed and pulled out when it rains.
However, if you're looking or the best of the best in terms of waterproofing, you simply are not beating the Fortis Marine when it comes to carp branded jackets.
Best Packable Waterproof: Aqua F12 Torrent
Style: Waterproof
I think we have made it clear that we are big fans of the Aqua F12 Torrent Range.
These have been around for a few years now, gaining lots of rave reviews in the process.
If you're looking for something waterproof and windproof, you won't go far wrong with this. Incorporating a 10,000mm hydrostatic head material, the F12 offers more than enough protection from the elements.
In fact, I've done a full day session outside in the rain wearing this jacket and was bone dry underneath.
Breathability is decent, and I found the sizing just about right to get enough winter layers underneath for November onwards. Not too tight and not too baggy. I actually tend to wear it out on dog walks too as it looks more stylish than my Regatta alternative.
The jacket has a solid, peaked hood as you would expect with a jacket of this calibre too. It also comes in a handy stuff sack which takes up no room in your rucksack.
My only gripe is the velcro straps on the cuff. They just don't have enough strength on them and I found I'm forever getting them caught on things.
Korda Drykore Carp Fishing Jacket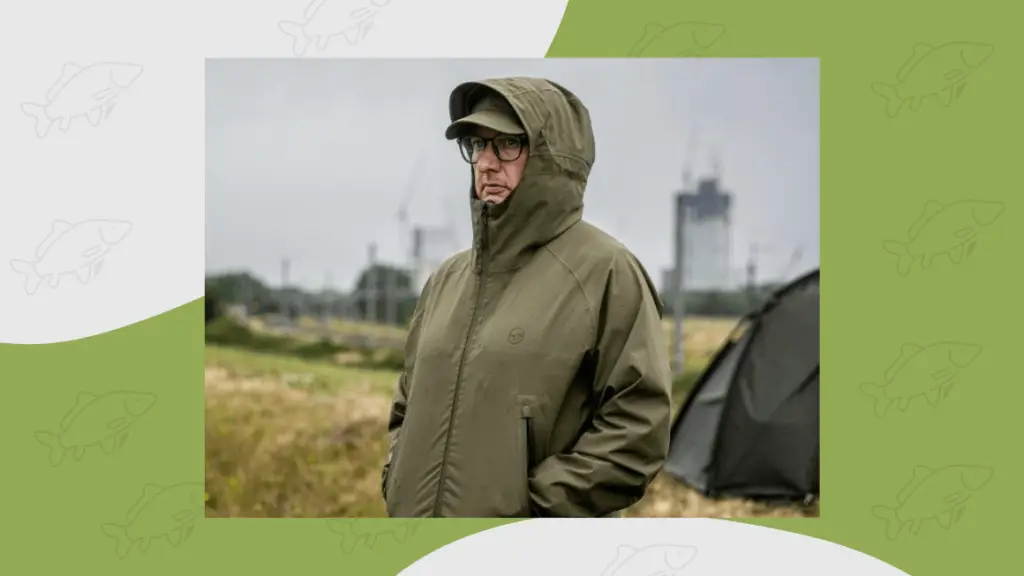 Style: Waterproof
Korda's Drykore jacket is the closest rival to the Aqua F12 in the waterproof only bracket.
It was a close second for me when purchasing a carp fishing jacket.
Why? I felt the fit was just a little bit too slim for me. I'm by no means a bulky guy, but I just felt a little bit restricted when it came to adding in my insulated under layers.
For all intents and purposes, it's not particularly made to be a layered up jacket for the winter months to be fair.
For them heavy Autumn showers I'm confident it would perform well, especially with the highest hydrostatic head rating in this guide.
Like most of the Korda range, you can see that it's been well thought out.
A major benefit of this jacket is the extended back. This ensures your back stays dry when sitting down, where other jackets might have a habit of riding up.
The guys have also thought about the cuffs too, extending them to ensure water doesn't run down your wrists when casting.
Overall, if you're looking for something that is a bit more of a tailored, smart fit, then I would go for the DryKore. You can even get an understated black version if you want a decent waterproof for adventures outside of fishing.
Best Thermal Carp Jacket: Snugpak Fortis SJ9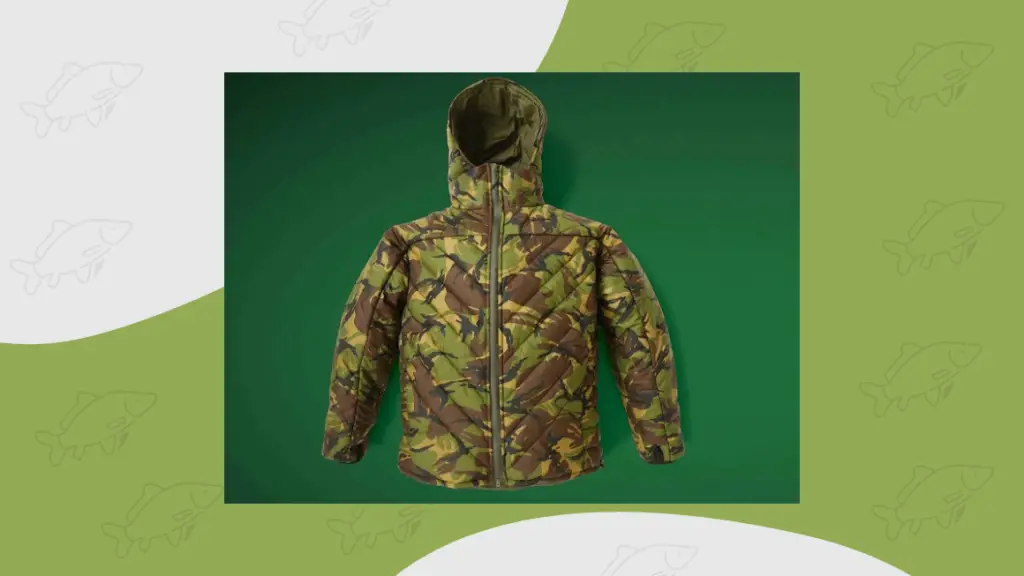 Style: Thermal Insulated
Snugpak are the absolute kings of thermal jackets, being the suppliers to our nations army for many years.
Whilst most old school anglers will be aware of the brand, it's only in recent years that they've made a range specifically for fishing.
There are a couple of thermals in the range, but it's the SJ9 that gets our vote.
Like most of the Snugpak range, it's stuffed with their unique 'Softie' filling which has extreme thermal properties but remains incredibly light.
It comes in at just 35oz, but has the ability to keep you warm to a shivering -15 degrees. It defies logic in many ways!
To be honest, there isn't much difference between this and the original Snugpak Sleeka which forms part of my own winter clothing. There is the addition of a hood and some thumb loops, but technically they are very similar.
My own Snugpak jacket has lasted me 15 years, and is as warm today as the day I bought it. In all honesty, if it's real warmth you are looking for, don't look much further.
One More Cast Cubera Puffer Jacket
Style: Thermal Insulated
We'd be foolish to overlook any of the One More Cast jackets.
If you're not aware of their backstory, they are in fact founded by Ray Kelvin, the owner of Ted Baker.
As a result, their range of clothing has grown pretty quickly, with access to established materials and manufacturing processes.
Their Puffer jacket has been the biggest hit, going out of stock regularly as anglers empty the shelves. The reviews since have been good too, and for that reason it makes our list.
Like the Snugpak SJ9, it's rated down to -15 degrees and is an out-and-out thermal jacket for the winter months. With a 650 gram puffer filling, it's definitely on the thick side, which is worth bearing in mind. (And it might have you looking a little bit like the Mitchelin Man).
With that in mind, this jacket works best as an outer garment, rather than part of a layering system which you can achieve with the Snugpak. You're probably struggle to find a big enough waterproof to go over it.
Whilst it will keep you toasty warm, it's probably not the best in heavy downpours. The OMC Puffer is labelled Water Repellent, which is a major advantage over packable thermals like the Snugpak's.
However, anything heavier than light rain and you'll likely start ruining it's thermal properties.
Puffers just aren't meant to get drenched completely. But if you're looking for something to keep you warm and cosy on a cold day, this will do the job.
Cult Tackle DPM Technical Bivvy Coat
Style: Waterproof
Oversized clothing is definitely cosier than tighter fitting gear, right?
That's what Cult Tackle must have thought with the invention of the Technical Bivvy Coat.
This enormous, trench style coat is full length, covering you from head to ankle, depending on how tall you are.
It's true storm attire to say the least. Being both waterproof and windproof, it has you covered in all seasons.
And covered is definitely the word. This thing will literally dwarf you.
And whilst it might not look the most stylish, it's certainly functional in many ways.
It can be used as a standard rain coat, but I see it's biggest uses as a coat that you can grab and throw on when we need to exit the bivvy in the rain.
Think about the times you put a few spombs out in the rain and return with soaked joggers. Or when you nip out for a wee in your thermals then return to the sleeping bag wet.
The bivvy coat is perfect in both of these occasions, and as something a little different, it had to make our list for the best carp fishing jacket.
How to look after your carp fishing jacket to prolong it's life
Some of the high-end carp fishing jackets are quite technical when it comes to clothing.
Whilst the materials used are usually hard-wearing, they do take a degree of care and attention to ensure that they continue to perform.
Here are a few things to think about to prolong the life of your jacket:
Don't wash it too often. With every wash you are likely ruining it's waterproof capabilities, so take a damp cloth to it at times instead.
Wash it in line with instructions. It's easy for us to just whack everything on a hot wash but this is known to tarnish the waterproof capabilities of most jackets. Read the labels first!
Don't pack them away wet. Like your bivvy, it's not ideal packing it away wet as this can ruin waterproof and thermal properties. Give everything a good dry out after a session.
About the writer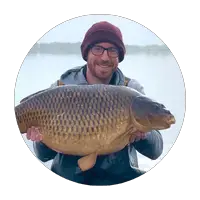 Rob W
I'm Rob, Carp Squad's main contributor. I've been carp fishing on and off for 15 years, but the bug is well and truly back at the moment. Hopefully the articles I write on here help you put more carp on the bank.