On this month's tried and tested, we're doing our Sunblesa Head Torch Review.
Sunblesa are a relatively unknown brand in the world of carp fishing.
However, they have gained plaudits in recent years by launching a number of cost-effective accessories including torches, bivvy lights and bivvy trays.
At a time where we're all feeling the pinch, I thought it would be good to review a budget head torch. Ultimately, I wanted to see whether it can stack up to the RidgeMonkey's of this world and feature on our guide to the best carp fishing head torch.
Sure enough, over the past couple of months I've been putting the Sunblesa head torch through it's paces.
What you'll find on this review is my honest opinion of this head torch. I'll go in detail about it's lighting capabilities, battery life and general wear and tear.
Hopefully this review will help you make a choice on whether the Sunblesa head torch is right for you.
Sunblesa Head Torch
Sunblesa's micro head torch. Excellent value for money!
Pros:
Super lightweight

Maximum of 365 lumens

Comfortable head band
View Price
Size & Weight
Rating: 5/5
We'd typically start off a head torch review talking about lighting capabilities. But not this time.
That's because when you take the Sunblesa out of the case, you'll realise that it's main benefit is actually the size and weight of it. I was really surprised by how small it is.
In comparison to most fishing head torches, it's tiny. In fact, it's around half of the size of my Saber Head Torch.
Put it next to a RidgeMonkey Head Torch and the difference is drastic, yet they both perform the same task. If you're sick of feeling like you've got a brick strapped to your head all night, then you should definitely check this head torch out.
Personally, I like to sleep with my head torch on and this has been by far the most comfortable I've used in recent years.
This is largely down to it's weight which comes in at only 45g. Couple that with a thin profile rectangle casing and you hardly know that it's on your head.
Despite the obvious benefits for sleeping with it on, the weight is also a major plus if:
You go running in the night and need something light
You take a child fishing with you and they need a lightweight head torch
Walking the dog (I use mine every evening in the winter)
Lighting Capabilities
Rating: 5/5
Undoubtedly one of the most important aspect of any head torch is the lighting capabilities.
It seems that most carp branded head torches on the market feature multiple colours and beams. The Sunblesa head torch is no different.
Again, this did surprise me. Quite how they've managed to fit so many lighting features in a small head unit is beyond me.
In total there are around 9 light settings, covering white, green and red colours.
As you would expect, most of them are within the white colour, which goes from Max 365 lumens to a low light which is enough for general tasks within the bivvy.
The maximum light is really bright, twice as bright as my Saber Head Torch in fact. It's rare that I'll use the full 365 lumens on a session to be honest. I found the mid range light more than enough for landing carp and getting the rods back out.
I'm also a bit cautious with the higher settings on head torches, as they can quickly drain the battery which happened to me whilst out testing this winter.
Sunblesa Head Band
Rating: 3/5
A pretty standard part of a head torch but still worth mentioning on this review. I've found the Sunblesa head band to be really comfortable.
The elasticated band is quite soft to the touch and remains comfortable on your forehead after long periods of time.
As I mentioned, I like to sleep with mine on and this is probably one of the comfiest head torches I've worn.
A nice little touch is the rubber line which runs on the inside of the band. Apparently this is to prevent it slipping out of position. (Although I've never had that problem with other head torches).
I was a bit hesitant to give this over 3 out of 5 at the moment if I'm honest. Cheaper elasticated head bands tend to have a habit of sagging over time in my experience. I'll check back and update this review towards the end of the year to see how this one fares.
Other than that, I think the branding can be a bit more subtle. Sunblesa probably isn't the brand right now that people want to show off, so having it in large garish blue text on the head brand isn't a desirable. I'm personally a fan of more subtle branded products and I'm sure they would sell more of these that way.
That's my personal preference though and doesn't take away from the features of this head torch in any way.
Build Quality
Rating: 4/5
I really didn't know what to expect when it came to build quality.
However, I have been pleasantly surprised at what seems to be a sturdy little product.
It's weight is deceiving, but I've dropped mine on the floor a few times now and it's still going solid.
It's IP65 rated too, with a nice little rubber cover for the USB port. There's no chance of this thing letting you down in the wind and rain.
I'm not sure what it would be like dropped in the lake, but I'm definitely not going to be trying that for the sake of this review!
Another nice addition to the Sunblesa Head Torch is the case that it comes with. It's waterproof and hardwearing, helping you keep the torch in tip top condition between sessions. What more do you need? It's nice for a carp brand not to be charging us for a case to be honest!
Battery Life
Rating: 3/5
When you choose a head torch as light as the Sunblesa, you've got to concede that you'll be compromising somewhere.
Now, as you can see, you definitely will not be compromising on features with this head torch.
But one thing you will have to take into account is the relatively short battery life.
According to Sunblesa, the head torch has a run time of around 200 hours. This sounds great on the face of things, until you realise that that's on it's lowest setting.
It's run time quickly reduces with the main beam, which has a run time of around 3 hours.
This is an obvious drawback if you are trying to compare it to a RidgeMonkey or higher end torch. However, what is that this is pretty common for most of the smaller budget head torches.
The battery capacity is not much of a problem if you use the lower-mid beam, which for all intents and purposes are more than you need.
However, use the main beam sparingly and you can still manage to drain the battery unknowingly. This happened to me on a recent winter session. Luckily I was equipped with a second head torch to use whilst the Sunblesa recharged.
Controls
Rating: 5/5
The controls couldn't be easier.
You've essentially got two buttons on the top. One side operates the main white beam. The other operates the green and red beam.
Like any head torch, it's just a case of cycling through the various settings on each side, starting from the lowest light setting.
Luckily, you don't need to do this every time though. The Sunblesa remembers your last light setting, allowing you turn turn it off and resume on whatever setting you had it on previously. This is very helpful if you don't want to be putting the main beam on accidentally.
When it comes to operating the head torch, it couldn't be easier really.
But the Sunblesa does have another trick up it's sleeve.
By holding both buttons down, you can enter the head torch into lock mode. This essentially turns it off and means it can't be turned on until you unlock it using the two buttons.
The main benefit of this is to stop it turning on in your rucksack and running out. – A genius feature which you don't see on many head torches.
In fact, it's one of the biggest downsides to the RidgeMonkey range of head torches which are very popular amongst the carp angling community.
Other Head Torches to Consider
Following this Sunblesa head torch review, you might get the sense that this head torch is not right for you. Here are some reasons why you might want to choose a different head torch:
You want a head torch with a longer battery life
As I've already mentioned, battery life is not the strongest point of the Sunblesa. Whilst it will work for shorter night sessions and other recreational activities, it might not be the most suitable for longer winter weekends on the bank.
In this instance, you need something with a longer battery life. The RidgeMonkey VRH150 is known for both it's high beam and battery power which can last at least a few sessions.
You want a higher beam for lamping carp
The high beam on the Sunblesa is great but still unlikely to be enough for finding carp at night. If you're turning up to venues late and want to be able to spot carp at short-medium range, you should opt for something with a more powerful beam.
The Nash Moonshine Mega Lite is probably the most powerful head torch for this type of carp fishing.
Pros & Cons
Pros
Lightweight
Comfortable trap
Multiple light settings
Very bright high beam
Comes with carry case
Fully waterproof
Cons
Battery life could be better
No battery life indicator
Where to buy the Sunblesa Head Torch
Sunblesa Head Torch
Sunblesa's micro head torch. Excellent value for money!
Pros:
Super lightweight

Maximum of 365 lumens

Comfortable head band
View Price
Conclusion – Sunblesa Head Torch Review
Make no mistake about it, the Sunblesa Head Torch is a nifty little piece of kit.
For less than £25, you can't really grumble at the amount of features you get on this head torch.
Yes, the battery life could be better. But that's the price you pay for having a super lightweight head torch that's marginally bigger than a teaspoon.
If you fish short sessions, want something lightweight for occasional use, then the Sunblesa head torch is well worth the purchase.
About the writer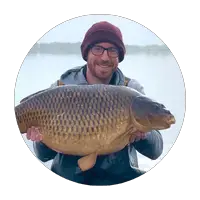 Rob W
I'm Rob, Carp Squad's main contributor. I've been carp fishing on and off for 15 years, but the bug is well and truly back at the moment. Hopefully the articles I write on here help you put more carp on the bank.