Carp fishing in October can be one of the most prolific times of the year. In fact, many anglers consider it one of the best months for carp fishing in the UK.
The carp are in excellent condition and they love to have a big feed at this time of year, making big hits of fish a reality.
But your approach to carp fishing needs to change slightly from the warmer months. Come October, we're already a week or so into Autumn. The leaves are dropping and the fresh winds are in full swing.
Whilst the carp are still active, you may notice signs of them slowing down in the colder weather. This doesn't need to hinder your fishing though, just adjust your tactics and equipment slightly to ensure that you have an enjoyable session.
Here are a few tips you can take into your carp fishing in October.
Go big on boilies
October is when the carp really start preparing for the winter. The change in conditions programs them to begin bulking in preparation for the long winter which we often see in the UK.
At this time of year, highly nutritious food sources are the order of the day, and you don't get much more nutritious than boilies. Packed full of protein, boilies are an irresistible, highly-digestible food source that carp up and down the country have come to love.
Most big fish anglers swear by fishing with only boilies from October and in to the Autumn. And don't be afraid to go big too. Whilst carp may be evidently less active during this period, it's often because they have got their heads down for a big feed.
Start using liquids more frequently
As carp start to slow down towards the end of October and beyond, it will get harder to tempt a bite. The carps metabolism slows right down and they will feed sparingly and when they choose to.
Even if you're in the right zone, it can be trickier to nick a bite than it would have been in the warmer months. For that reason, now is the time to start incorporating liquid attractants into your mixes and hook baits to give them an extra boost.
Liquids are a great way of prolonging the attraction of your hookbaits and free offerings without having to pile loads of bait into your swim.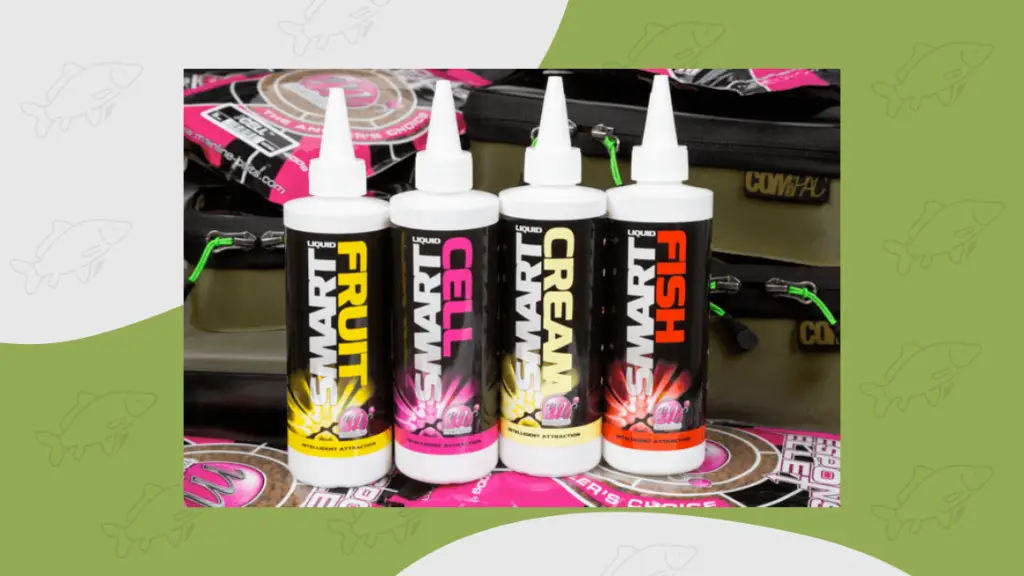 Make chod rigs and stiff hinges your go-to
October is synonymous with big winds and leaves on the ground. But you also need to be wary of leaves and debris that blow into the water and rest on the lakebed too.
The last thing you want is to cast out and have a hookbait presentation which is masked and out of the sight of passing carp. A simple tactic to overcome any fresh chod and debris on the lakebed is to adopt a pop up presentation.
Chod rigs and stiff hinge rigs have been known to be successful at this time of year, providing you with a simple presentation which is always fishing no matter what lakebed they land on. Chod rigs especially are great when fishing in silt and over a wide spread of boilies.
Double check your clear spots for debris
Don't take for granted that your clear spots will still be clear spots in October. As I've already mentioned, heavy winds and dropping leaves can mean new debris to contend with in the lake.
Not only that, but large weed beds will have begun to die down at this time of the year. It's not uncommon to see these washed right across the lake in the big winds, almost restructuring fishable areas!
For that reason, it pays to double check clear spots or find alternative areas to bait and fish if you need to. Get your marker rod out and use this time to find clear spots that you can note down and fish throughout the coming months.
If you find that your clear spots are a little 'dirtier', you can also try using a weed rake to clear them off slightly.
Follow the south-westerly winds
South-westerly winds are well known as the best of conditions for carp fishing. These are exaggerated even more in October as they bring an air of warmer conditions too.
Low pressure (under 1000bm) and winds pumping into the north-easterly section of the lake are what you want to be looking for.
Just by knowing this information you can easily keep an eye on the weather and plan your sessions accordingly. Ideally, you want to be positioned just ahead of the wind changing. With your swim prepped and baits in position, you can wait for the carp to come in on the new wind.
For weather spotting, personally I like to use BBC which gives decent representations of air pressure, wind direction and precipitation.
Be prepared with the right clothing
The last chilly nights might be a distant memory after a warm summer, but they soon hit us hard in October!
I find that you need to be prepared for most eventualities at this time of year. There's nothing worse than being unprepared with poor footwear and clothing. It just makes you uncomfortable and not want to be there.
You'll end up spending more time thinking about how to warm up rather than catching fish.
It's always worth packing bits of your winter kit in your car incase a really cold night rolls in in October. This could include:
Your bivvy skull carp or overwrap
Extra thermal items tops and bottoms
Spare gas canister to keep the brews incoming!
Watch the water at first light
Dark nights often make it much harder for carp spotting in October and beyond. Not only is it harder to see them in the dead of the night, it's also more common for us to be tucked up in the bivvy from sunset onwards!
To fully reap the rewards, you've got to be willing to put the effort in and wake up at first light.
This is often one of the best times to spot carp jumping, and they will give away prime feeding spots that can be prolific right through into the winter.
You can also go one step further and simply listen for them. By eliminating any noises distractions (such as your radio/phone), it can be quite easy to hear carp jump.
The sounds are magnified across the lake at dark and you'll soon get a sense for the direction that they are in.
Conclusion
October can be one of the most prolific times to fish for carp. You've just got to remember that it's on the cusp of a weather change, and carp will start acting differently as they prepare for the winter.
What worked in July and August may not now. But with a few changes to your tactics, you can keep the bites coming and have a successful time carp fishing in October.
About the writer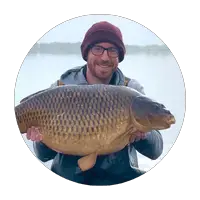 Rob W
I'm Rob, Carp Squad's main contributor. I've been carp fishing on and off for 15 years, but the bug is well and truly back at the moment. Hopefully the articles I write on here help you put more carp on the bank.