"A good friend of mine and prolific West Yorkshire carp angler Jason Stockings has had a brilliant year on the bank, eclipsing all targets that he put in place for himself, including bagging more than a couple of PB's from The Approach Fisheries. In this article Jason tells us the story of his biggest red letter session, where he banked a huge brace of mirrors totalling over 93lb!" – Rob Warburton – Carp Squad
I arrived at the fishery late on Friday afternoon to a very busy Willows Lake. No surprise really with it being a bank holiday, and those who know the lake will understand just how hectic it can be on the weekends.
With only 3 pegs to choose from, I decided to jump in peg 3 and benefit from being on the back of the wind. A very quick set up was the order of the day, getting the bivvy up first to keep everything dry just as the storm came in.
As the rain passed, I had a quick lead about, finding a nice clear spot close in amongst the weed to present a solid bag. The other two rods, also on solid bags, were quickly dispatched to a gravel bar that I've had some success fishing to in recent months.
Trying to fish for a bite at a time, I went easy on the bait, scattering a few freebies of my ever-faithful FishStim Boilie from Swirl Baits over the top of each rod.
Despite not having the pick of the swims, I did go into the night feeling pretty confident. It's an area that has produced for me in the past and an early morning wake up call is always on the cards!
4AM came around and I was awakened by my alarm clock and not my bite alarm unfortunately. But it was at this point that they gave themselves away. Sitting there with my coffee in hand, I spotted a big fish pop its head out straight across in front of the vacant Peg 18. Not wanting to be too hasty, I sat on my hands for half an hour, but the shows never stopped.
They were clearly loving the morning rays hitting the water, so I reeled the rods in and headed round to bucket the swim. It wasn't long before I had all the gear round and dispatched three rods in the vicinity of where they were showing. Pretty quickly the shows began getting less and less, but confidence remained as the mornings are always good on Willows.
Much to my surprise, nothing happened and the afternoon went by without so much as a bleep. It went just into the evening when one of the rods burst into life! – Yes!
I thought to myself it's always nice to get a bite when you put the effort in to move, little did I know what I was hooked into until I saw it hugging the margins to my left and right. A real chunk and I knew straight away this could be the biggest fish I've had out of here. After a slow, hard battle I finally slipped the net under her and stood there looking at what could possibly be my target for the year.  I was buzzing but also intrigued to get her weighed. A few mates came round to help with the weighing and pictures.  
I think we were all guessing a mid-thirty but the scales went 41lb 10oz! As you can imagine, I was over the moon as I've just smashed my PB and got my target for the year with a Yorkshire 40 pounder. 
Still buzzing I rang my wife and mates to tell them the great news and also my bait sponsor as it was the first UK 40lb carp caught on Swirl Baits. Ironically, we spoke about what I was setting for my new target, so I said 45lb plus, or maybe a bonus 50 pounder!
Little did I know what was going to unfold the next morning…
Buzzing with adrenaline from the new PB, I hardly got any sleep but had the alarm set to watch the first-light shows at 4am again.
I don't know what I was thinking but something in my head was saying to move the left hand rod further up the bar by half a foot. Not ideal on bite time when you want to keep disturbance to a minimum, but you know when something just doesn't feel right with one of the rods.
Anyway another solid bag armed with a PC Wafter and SW1 Pellet pumped with Salmon Oil was dispatched to the spot. Quickly followed up by a helping of FishStim boilie over the top. 
Half an hour went by and I had a single beep on the alarm and saw my line tighten and the rod slowly bend round! Yes! I'm in again, second bite in the new swim!
Not long after managing to stop the fish from going round the marker pole, my right hand rod burst into life. Willows is not easy by any stretch of the imagination, so double takes are pretty rare.
I had to shout my mate over so he could give a hand while I was playing what was clearly a very heavy fish. Finally my mate landed a nice mirror for me at 20lb plus and I was still playing mine as it just wasn't giving up. 15 minutes later I finally saw her up close in the clear water and I knew straight away this was bigger than the 40lber from yesterday. 
As you can imagine, I'm now shaking with adrenaline as I have seen what I'm hooked into!
The next 10 minutes felt like the longest ever, until I bundled it into the net and shouted with a big sigh of relief, get in! I quickly called my mate Dale to come and give me a hand. Peering into the net we quickly identified what fish it was. – A fish known as Alfie's Fish. One of the biggest in the lake that regularly goes above the 50lb mark.
Buzzing was an understatement!  We finally got ready to weigh her and the dial went straight past the 40lb mark and at 52lb I could not believe what had just happened. My second and bonus target for the year smashed again, in the same session.
We put the fish back in the water to keep her calm while the guys came to take some photos. Big credit to Swirl Baits and Scott Kelly from Hunt the Angle for getting down so quickly and for the great shots.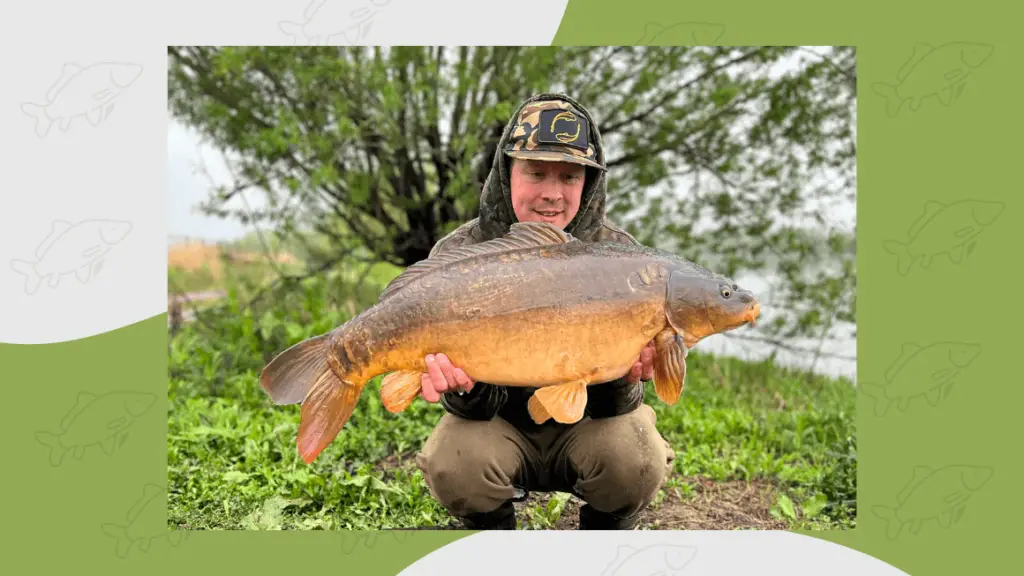 I don't think it had fully sank in what had just happened as I still had fishing to be done! 
Eventually I managed to get some sleep that night with no more bites to follow that evening, the next morning though I was awoken by my right hand rod again busting off and after a quick fire battle I slipped the net cord under a small common at 17lb.
That was the only bite that last morning and 11 o'clock came just like that! It was time to pack down and in typical style the heavens opened up but did I care? Not one bit! In fact this was the best pack down in my angling life.
Willows has been very kind to me since I started fishing there in June 2022. I've managed multiple 30s and 20s and it's a place that I just can't get enough of. The guys that run it are next level and so helpful, big credit to them.
Time for my next target now! A 40lb common.. 
Tight lines 
Jason
About the writer
Jason Stockings
I'm Jason, keen carp angler from West Yorkshire and ambassador for Swirl Baits. When I'm not trying to outwit the Yorkshire 40's and 50's of The Approach Fisheries, you might see me participating in the 24-hour carp matches on my local Yeadon Tarn.