This week we're going to look at the best hook for blowback rig.
Blow back rigs have been around for years, remaining popular for carp anglers fishing pop ups, wafters or bottom baits.
The general mechanics of a blow back rig are focussed around the shank of the hook. Typically, you will see the hair attached to the shank using a small rig ring or piece of silicon. The intention being that the bait can be 'blown' out of the way as carp sift through various particles.
Whether that works in practice is a different story! Anyway, let's take a look at the best hooks you can use for the blowback rig.
Best blowback rig hooks
Below we have highlighted some of the most popular hooks that carp anglers use to construct the blowback rig.
Gardner Mugga Hooks
Best For Blow Back Rig
Gardner Cover Long Shank Mugga
An extended version of Gardner's legendary Mugga hook pattern. A favourite of many old school anglers!
Pros:
The longest curve shanks available

Ideal for blow back rigs or 360 rigs

Very sharp out of the packet
View Price
Gardner Mugga Hooks have been around for nearly 20 years, which says something. In this time, the hooks haven't changed much, remaining their aggressive curve shank and super sharp point.
Muggas are my personal choice when fishing block back rigs or ronnie rigs.
The in-turned eye makes this hook pattern suitable for most hooklink materials. Without the need for a line aligner, you can still maintain an aggressive angle on the hook to improve your hooking ratio.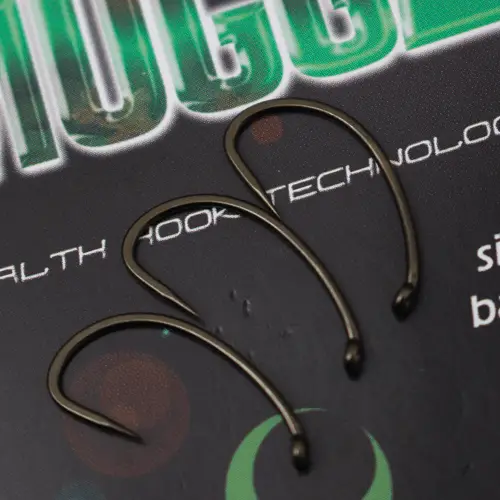 Korda Longshank Hooks
With the emergence of curved shank and crank style hooks, longshanks have lost popularity. That being said, they remain an excellent hook choice for blow back rigs.
As the name suggests, they have an elongated shank, providing room for your bait to manoeuvre as part of your rig mechanics.
A super sharp point provides instant hook penetration. These hooks were one of the first patterns available to carp anglers and many old timers swear by them.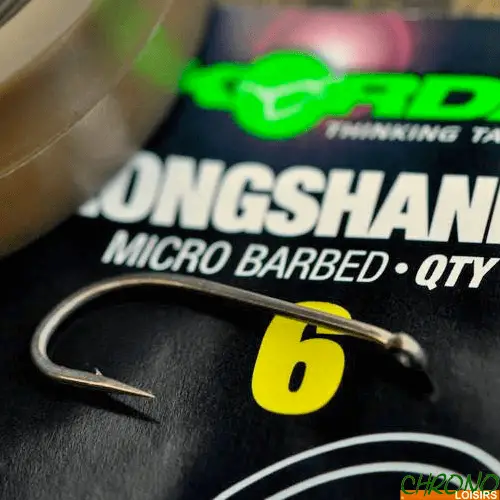 ESP Trig-Hammer
ESP have been making moves in the hook market with the release of their new Cryogen range. Newest in the range are their Trig-Hammer hooks.
These hooks are like a cross between a longshank carp hook and a curve. With a long subtly surved shank, Trig Hammers are ideal for blow backs and ronnie rigs alike.
Featuring a super-sharp point straight out of the packet, these hooks provide excellent hook holds. They've only been on the market for around a year and they are already well received.
RidgeMonkey Ape-X Curve Shank
RidgeMonkey's range of hooks have been well received since their launch. The Ape-X range was designed to be super strong, built from Japanese Carbon 80 steel. Additionally, these hooks feature a hook point that is both razor sharp and strong, reducing the likelihood of blunting.
Shape wise, these are a pretty generic curve style with a less aggressive eye than the Gardner Muggas. However, they make excellent block back rig hooks.
Thinking Anglers Curve Shank
The Thinking Anglers Curve Shank is another very versatile hook pattern. With a sticky sharp point and a slight in-turned eye, The TA Curve can be used for all manner of carp angling rigs, including the blow back rig.
These hooks are known to offer amazing strength due to the extra-heavy wire gauge that's used during the construction process.
Conclusion
As you can see, there are many different patterns to choose from when looking for the best hook for blowback rig.
Like most things in carp fishing, you need to find something you're confident in. Once you're confident in your hook choice, you no longer need to worry about chopping and changing. For that reason, I urge you to find one pattern of hook for your blow back rigs and stick with it for the foreseeable future.
As a result, you'll spend much more of your time focussing on the thing that really matters, like being where the fish are!
MORE READING: What size hook for carp?
About the writer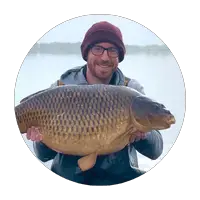 Rob W
I'm Rob, Carp Squad's main contributor. I've been carp fishing on and off for 15 years, but the bug is well and truly back at the moment. Hopefully the articles I write on here help you put more carp on the bank.