RidgeMonkey power pack problems are not that common, but they can be frustrating when they arise.
As far as carp fishing power packs go, the RidgeMonkey is one of the most expensive. As a result, you do expect a high level of reliability.
But like most items of technology, they can be prone to problems. If you are experiencing problems with your RidgeMonkey Power Pack, or scoping out their reliability, this article.
We'll be covering the common problems you may find with this power pack, and solutions for how to fix them.
I have had problems with my RidgeMonkey Power Pack
The fact of the matte is, I have had problems with my RidgeMonkey Power Pack, so I'm well placed to write this article.
Just over a year after buying my RidgeMonkey Vault C-Smart Wireless, it started playing up. First I noticed that the USB ports were not charging.
Then on closer inspection I could see that it just wasn't turning off, even without devices connected. Obviously this was leading to a fast battery drain and rendering the power pack pretty much useless.
Let's take a look at that problem in more depth and some others that you may experience with the RidgeMonkey C-Smart.
Common problems with the RidgeMonkey Power Packs
RidgeMonkey Power Pack wont turn off
The problem that I ran in to with the C-Smart is that my power pack just wouldn't turn off.
Even if the USB's did work, this immediately cut down the usage time and rendered it useless for anything longer than a day session.
The RidgeMonkey C-Smart has 5 small lights on the top, which should turn off when you remove devices from the connectors.
Unfortunately mine wasn't. After inspecting the USB ports, there was nothing in there to draw life from the battery so I put it down to a generic fault.
A quick post on the Carp Squad Facebook Group and I could see that others had experienced this.
The more tech-savvy amongst the group shared ways to reset the Power Pack by opening it up and disconnecting/reconnecting one of the main wires.
Mine was still in warranty, so I sent it back to RidgeMonkey for an instant replacement.
RidgeMonkey USB ports don't work
This is a very frustrating one.
The power pack clearly has charge but one or more of the ports don't work.
This one goes hand-in-hand with the first error I noticed. My USB-C ports just wouldn't work, even though the wireless pad was.
While some may put up with this, for a £100+ piece of kit you expect it to function fully.
In the first instance, i recommend checking the integrity of your charging cable.
Although the cable you receive from RidgeMonkey is very well designed, they are prone to breaking inside over time.
If it's that, then you simply purchase a new USB cable.
If the problem persists and you realise it's down to the main device, I recommend sending it back to RidgeMonkey if it's under warranty.
Battery runs out too quickly
Unfortunately, this is the downside to anything that is battery powered.
Over the years you will start to notice that the battery begins to drain quicker.
Obviously, if this is happening within hours, instead of days, then you know you have a problem with your RidgeMonkey Power Pack.
Most battery packs can be used for years without you noticing that they begin to drain faster.
I'm 5 years in to using an Anker Power Pack (my RidgeMonkey backup), and only now am I beginning to see it lose it's capacity slightly.
Wireless pad isn't charging my phone
This isn't such a common problem with the RidgeMonkey Power Pack.
Even when my power pack wouldn't turn off or USB's wouldn't work, my wireless pad was still working.
This first thing I would do if you struggle to get it charging is to remove your phone case.
Wireless charging isn't so great when bulky phone cases are blocking the charge. It's much more efficient to just remove your case and have it charge directly on the phone.
Alternatively I would recommend investing in a thinners phone case. I bought this phone case off Amazon which works perfectly with the RidgeMonkey C-Vault Wireless Pad.
How to know if my RidgeMonkey is under warranty?
There is now way for you to know if it under warranty. The only way to find out is to send the device to RidgeMonkey, at which point they can check, assuming by the serial code on the back of the device.
It's probably not the most efficient way to check, as this does mean physically posting the device to their offices. It would be nice if you could enter the serial code online like you can with Apple products.
How to return your power pack to RidgeMonkey
In the unfortunate event that you need to return your power pack to RidgeMonkey, here's what you need to do:
Contact them via social media or via the contact form on their website
Print and fill in the returns form that they will send to you.
Package up your RidgeMonkey Power Pack and include your returns form and receipt if you still have it.
Send it to RidgeMonkey's returns department using a signed for courier
Wait for their response. I was sent a new C-Vault Power Pack within a week.
Dealing with RidgeMonkey was an excellent experience. I was genuinely fuming when the power pack developed problems.
But like any good manufacturer, a good warranty and replacement service is in place when these problems arise.
About the writer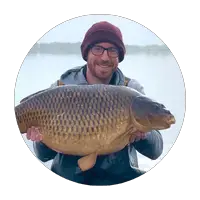 Rob W
I'm Rob, Carp Squad's main contributor. I've been carp fishing on and off for 15 years, but the bug is well and truly back at the moment. Hopefully the articles I write on here help you put more carp on the bank.